ScoreVision Capture: Why You Should Consider this Affordable Video Solution
Are you on the lookout for an affordable video solution that will cater to your high school fan base? Look no further! The ScoreVision Capture App is the ultimate answer. Bid farewell to complicated setups and say hello to a seamlessly integrated solution. Capture effortlessly communicates with the rest of the ScoreVision ecosystem, making it an easy and affordable choice. In this blog, we present to you four compelling reasons why you should seriously consider using ScoreVision Capture as your go-to video solution.
---
1. ScoreVision Capture seamlessly integrates into your existing setup, eliminating the need for additional equipment on game-day. With just a mobile device, you can effortlessly send video content to the Producer App and Fan App, streamlining the process and saving precious set-up time before the game. And the best part? You can also utilize this solution during practice to review footage and analyze drills.
Give your coaches a username and empower them to download the app and capture practice footage. With just a few taps, they can send videos to the display for players to review, or download them from the Cloud and send them out after practice. This way your players have a way to continually stay in sync and review footage.
2. Finding volunteers with experience in capturing footage can be challenging. We understand that not every video you film will be your best work. That's why we've developed a convenient moderation tool in the Cloud. This tool is completely optional and can be easily turned on or off. With our SVC Manager, you have the power to moderate your footage, giving you the ability to reject or approve clips before they are sent to the display or Fan App. It's a game-changer that ensures only the best content makes it to your fans.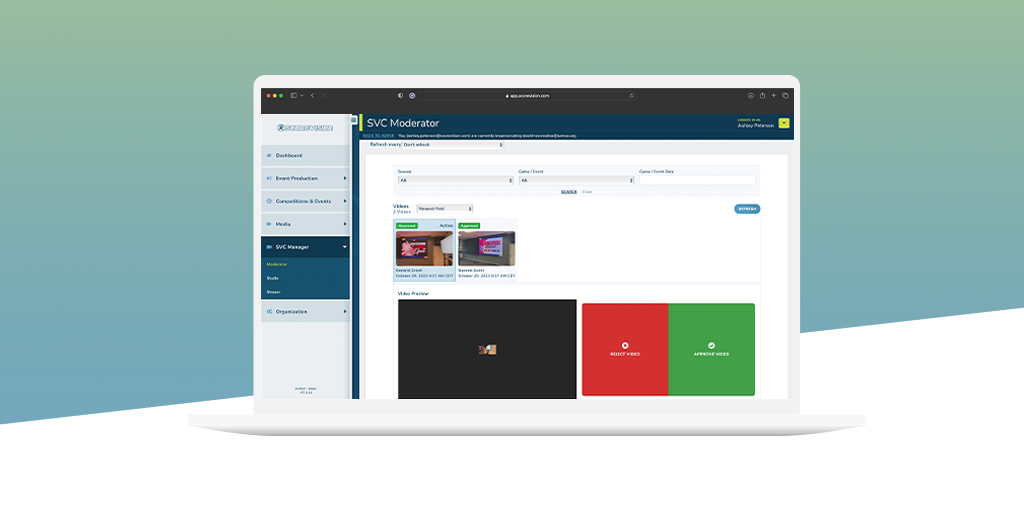 3. ScoreVision Capture offers a unique and exclusive feature called "moments." With moments, you can capture a ten-second clip that not only includes the action you recorded but also seven seconds prior and three seconds after. This is especially useful in fast-paced sports where exciting plays happen unexpectedly, like a spike or ace in volleyball. Imagine if you missed recording a thrilling moment when the ball dropped in front of the opposing team. No problem! Simply press the button as the ball hits the ground, and ScoreVision Capture will include the seven seconds leading up to, along with the three seconds after, ensuring you never miss a single highlight.
4. This solution is always evolving, which is what makes ScoreVision such an exhilarating team to be a part of, whether as a customer or an employee. We are continuously developing our solutions to include enhancements and new features. While we can't reveal all our secrets just yet, rest assured that when the time comes, ScoreVision users will have a front-row seat to the exciting release of these betas.
Have questions about our Capture App? Fill out this form for more information.