A ScoreVision video scoreboard provides the perfect platform for showcasing multimedia content for fans and the community to enjoy. Many times, this content is created by the students at our customer schools. Whether these students are just beginning their exploration into graphic design and video production or they have been learning about it already in classes or through self-teaching, we've put together this guide filled with tips, tutorials, and resources to help students make amazing creative content for their ScoreVision video board.
Where to Gather Inspiration
The first step for brainstorming the design for any type of creative element is getting inspired. Inspiration for graphics or videos for your ScoreVision video board can come from anywhere – watching ESPN with friends and paying attention to the look and feel of their graphics and animations; researching current design trends online via resources like Google and Pinterest; and exploring templates and resources like stock photos, audio clips, video templates, graphics templates, and more from sites such as Envato Market and Pond5.
Once you've gathered the inspiration for your design, it's time to build it.
What Tools to Use
There is a wide variety of software tools available for graphic design and video production. These tools range from low-cost, beginner-friendly tools all the way up to advanced, industry-standard tools used by professionals in the fields of graphic design and video production.
Graphic Design Tools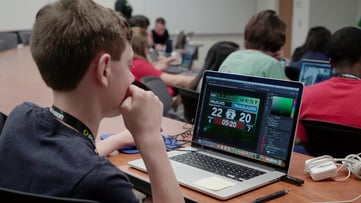 For graphic design, one of the most commonly used software tools is Adobe Photoshop. Photoshop is extremely robust, but it can help you create nearly any design you can think of. It is available through a subscription to Adobe Creative Cloud and there are thousands of tutorials online to help you learn all the different features it offers.
If graphic design software isn't in the budget, you might consider trying a free, open-source software such as Gimp for similar graphic design features.
For beginners, both Photoshop and Gimp can be a bit overwhelming. It may be helpful to start out with a more simple, user-friendly software tool such as Canva. This software can be used to create many types of graphics, such as sponsor ads, school announcements, and school branding graphics.
Video Production Tools
For video production, there is also a variety of software tools available ranging from advanced tools used by industry professionals to low-cost tools designed for beginners.
Some of the most commonly used software for video production are part of the Adobe Creative Cloud suite. These tools include Adobe Premiere and Adobe After Effects. They are incredibly robust tools that can help you create complex videos and enhance them with elements such as motion graphics, transitions, animations, and other visual effects that can make your hype videos, player profiles, and other video elements stand out and energize fans.
Apple also offers Final Cut Pro, a robust post-production software for bringing complex videos to life.
If additional video production software isn't in the budget, there are plenty of free and low-cost tools available for a range of skill levels. DaVinci Resolve is an excellent free tool for advanced video production, and Apple's iMovie is a free tool for beginner to intermediate skill levels.
Helpful Resources for Beginners
Whether you will be building graphics, videos, or both, there are tons of helpful resources out there to help students of any skill level to learn the basics and to explore new techniques. You can learn from these helpful resources by watching video tutorials, reading illustrated and written guides, and by exploring templates in a hands-on approach.
Video Tutorials for Graphic Design
Video Tutorials for Video Production
Guides for Graphic Design
Guides for Video Production
Templates for Graphic Design and Video Production
Other helpful sources of templates and creative assets include Envato Market, Adobe Stock, and Pond5.
ScoreVision is proud of the impact our video scoreboards make on the education of students. We believe our system is so much more than a scoreboard – it helps bring the experience of a professional sports arena to high schools and colleges across the country and gives students a platform to showcase their creative talents for their communities to see.
To learn more about the educational opportunities of working with a ScoreVision system, check out this short video.
To learn more about ScoreVision's video scoreboard, scorekeeping, and event production software system, request more information below!
Imagine ScoreVision in Your School
Request more information below to learn more about bringing a ScoreVision system to your school or facility.