This spring, ScoreVision released a new and improved version of our exclusive Fan App.
In the past, our custom fan engagement app has given our customer schools the opportunity to keep fans informed about game events and sponsor messaging, whether they were attending games in-person or not.
In our latest release, we've given the ScoreVision Fan App a fresh new look and packed it with even more features to impress schools and their fans. Explore the new features below!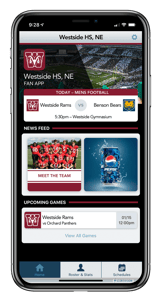 Personalized Home Screen
The ScoreVision Fan App experience centers around an all-new home screen that schools can personalize with their own branding and content. The new home screen features school branding, announcements, sponsor graphics, and other content in a graphic-style news feed.
Automatic Game Feeds
Game data is automatically fed into the app from the ScoreVision scorekeeping software at every game, keeping fans informed about scores, game events, individual player stats, and team leaderboard stats even if they can't attend the game in person. All game data comes straight from ScoreVision's scoring software without any extra effort from your scorekeepers.

Advertising Opportunities
The new ScoreVision Fan App features more spaces to deliver sponsor messaging, increasing the amount of fundraising revenue you can generate from your ScoreVision system. These spaces, located on the home screen and between game events, can also be used for school announcements or any other messaging of your choice.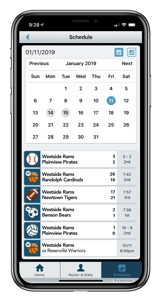 Team Schedules
Team schedules managed through your school's ScoreVision Central cloud account can be shared automatically to fans through the Fan App so fans can keep tabs on current and upcoming games with a clean and clear interface.
Rosters & Stats
The new Fan App provides roster information on every sport for which you use your ScoreVision scoring system, pulled directly from your ScoreVision Central cloud account.
Player Profiles
Fans can view individual player profiles with current stats for every player on the roster. Plus, schools have the option to include a link to the player's extended profile on their website.
Learn more about the ScoreVision Fan App and download it here.
Imagine ScoreVision in Your School
Request more information below to learn more about bringing a ScoreVision system to your school or facility.