When it comes to scoreboard technology, it's obvious that an upgrade to a ScoreVision jumbotron system will have a profound impact the sporting events played in your gym. But we know that games and matches aren't the only activities that take place in the gym. Read on to see how our robust jumbotron software makes it easy to level up those other activities.
Game Film Review and Analysis
Many ScoreVision Schools use film review and analysis technology like Hudl or Krossover. ScoreVision's app-based controllers make it easy to relay footage from these film review tools directly onto the multimedia scoreboard so the whole team can view it and apply the coach's critiques right away.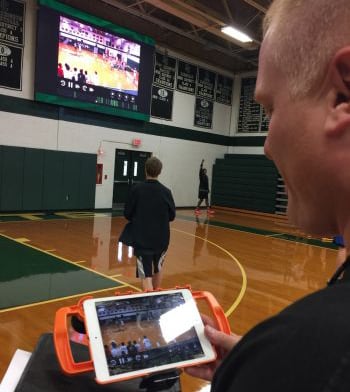 Sports Practice
ScoreVision video scoreboards can also benefit team practices in your gym or on your field. Ben Klapperich, Head Boys Basketball Coach at Charles City High School says, "ScoreVision scoreboards have definitely impacted the way that I coach basketball. We definitely learn our plays a lot faster from the simple fact that we're able to give instant feedback to the players."
Adam Neely, also a Head Boys Basketball Coach, has experienced similar results at Prescott High School:
"We have used it to actually record things that are happening in practice on the fly and then be able to stop and show the players. That immediate feedback is more powerful than anything we've been able to get from film. We've been able to have something happen in the gym, like working on a drill or working on some detail that they don't quite understand, and we can show it on the video display and have them instantly understand. I've had some kids where you can see the light bulb go off in their head."
Gym Class
ScoreVision multimedia jumbotrons can also benefit one of the most common activities that take place in gymnasiums – gym class. Steve Frey, gym teacher and baseball coach at Millard West High School, frequently uses the ScoreVision multimedia scoreboards in their main gym to improve outcomes for his students. He finds many ways to incorporate the system in his gym classes, such as evaluating students' performance with the ScoreKeeper App during their referee and scorekeeper training class.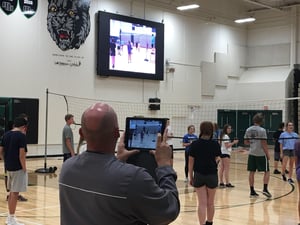 These are just a few of the ways our customers have leveraged our multimedia video scoreboards outside of sporting events, and they are always coming up with more creative ideas! To see more alternative use ideas, check out our blog here and stay tuned for next week's post about using ScoreVision jumbotrons to benefit music programs! Follow us on Twitter, Facebook, and our e-newsletter to be the first to know when it's released.
Want to learn how you can bring ScoreVision to your school? Contact us today!
Imagine ScoreVision in Your School
Request more information below to learn more about bringing a ScoreVision system to your school or facility.