When it comes time to make an investment into your athletics program with a scoreboard upgrade, you're looking for a solution that will make a great impact now and in the future. Like every athletic director, you're probably taking into consideration what your new scoreboards will be like today and also in five to ten years. We gathered some experts in software, hardware, and design to talk a little bit about why a ScoreVision system is an excellent investment in your program now and for the future.
User-Focused Software
ScoreVision prides itself on being a software company first and foremost, which explains our relentless dedication to developing the most user-friendly scorekeeping and event production software on the market. "The difference between ScoreVision and other competitive systems is that with traditional metal-box scoreboards and even with competitive video displays, the hardware and software that drives the fan experience doesn't get updated, so you're stuck with a stale environment in 5-10 years," explains Mike Maryott, Director of Customer Experience. "We are constantly thinking of new ways to improve the fan experience at schools all over the country and this translates to routine software and hardware updates as well as graphics updates to ensure schools have a fresh, engaging fan experience that gets better year after year."
ScoreVision understands that the job of an athletic director can be very time-consuming, so we do everything we can to make the process of producing top-notch athletic events as easy as possible. "ScoreVision is a very user-driven company. We work extremely closely with our customers so we can develop the most intuitive product on the market and reduce the effort they have to put into scoring games and producing engaging events. Everything from processes to the layout of our software is adjusted based on the feedback we receive from the people using our product," adds Maryott. "We do our best to deliver our routine updates in a way that requires little to no effort from our customers. We monitor systems remotely to proactively find areas for improvement, and we release and install updates remotely as well. ADs can go home at night and when they come into their gym the next day, we've updated their system for them with additional helpful features. They don't need to worry about the manual process. Our app-based software is also updated very simply through the App Store."
Cutting-Edge Hardware
In addition to our dedication to powerful, intuitive software, we also take pride in the hardware that runs our system. "As a technology company, ScoreVision is always looking to stay on the cutting edge of technology in terms of hardware and software. We pursue the newest and best technology on the market for our customers in order to ensure the experience delivered to fans all over the country is the best on the market year after year," explains Jake Chapman, Vice President of Operations.
A ScoreVision system is comprised of only the best LED and hardware products on the market, and we build redundancy and reliability into every system we install. "Redundancy and reliability is a huge focus at ScoreVision. Everything from our servers to our hardware is built with backups in mind so your system is functioning without issue when it's game-time," adds Chapman. "One of the most flexible parts of our jumbotron system is the game controllers. Our scorekeeping and event production software is primarily run from an iPad, which has several benefits over a specialized controller. iPads are modern, and they're familiar and intuitive to any generation that may be running it. They are mobile and connect to the displays wirelessly, so scorekeepers and production staff can control it from anywhere in the gym without being tethered to one spot."
Fresh Graphics
One of the most unique aspects of ScoreVision is our commitment to making our powerful, robust system look modern and beautiful. From our software and apps to the appearance of our jumbotrons, it's easy to tell the difference between a ScoreVision system and a competitive setup.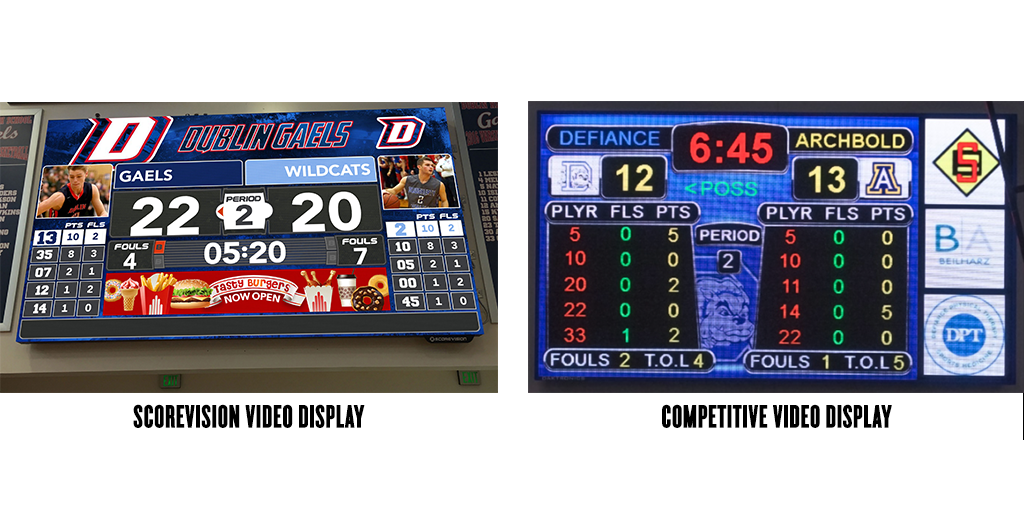 "One of the great things about ScoreVision is that we don't just install the LED display in a customer's facility and leave all the graphics up to them. Our Creative Team produces a 'Starter Pack' of graphics and video content for every customer so that when their displays are turned on for the first time, the content is there ready to use. It really helps make a great first impression and empowers the school to enhance their game-time experience for fans right from the beginning," explains David Sutter, Chief Creative Officer. "Customers also have the opportunity to upgrade their Starter Pack to our new Game Day Enhancement Pack. This new offering provides the school with additional, dynamic content that can be personalized to the school and that can help deliver an even greater impact during games and events. In addition, this Pack is part of a service that ScoreVision makes available to every customer at any time, so that the school can receive a one-time or annual refresh of all their content if they wish."
In addition to graphics and video content, every sport-specific scoreboard and media layout come pre-built into every system so you don't have to spend precious time building informative, optimized layouts. With ScoreVision's event production software, it's as simple as selecting the media you want to display, choosing the layout you want, and pressing play. Our system handles the rest!
Whether schools choose to develop their own creative content or work with ScoreVision's Professional Creative Services team, updating graphics and video content is incredibly easy to do. "The beauty of our user-friendly system is that we've made it very simple for staff and even students to get involved in the creation of the graphics and video content for their ScoreVision displays. Content can be created in common, industry-standard formats and easily uploaded to ScoreVision Central for use at games and events," adds Sutter.
Don't take our word for it – hear it from one of our customers, Athletic Director Missy Townsend from Prescott, Arizona, in this short video clip:
If you're ready to make an upgrade to your athletics program that will have a lasting impact for many years to come, learn more about ScoreVision, hear what our customers have to say, and contact us today!