If there's one thing that ScoreVision enjoys more than the impact that our video board, scorekeeping apps, and event production software has on our customers, it's the relationship we build with each and every customer we welcome to the ScoreVision Family. In this blog post, we wanted to share with future customers some insight into how our installation process works and how our relationship with our customers continues growing long after our system is installed.
Creative Services
As soon as we welcome a customer to the ScoreVision Family, our creative team gets to work collaborating with the school or facility to create a package of personalized graphics that enhances the game-time experience. Our goal is to delight our customers with well-designed, personalized creative content from the moment the ScoreVision video boards are first turned on. Our creative team has a few options for customers to choose from when it comes to deciding how much starter content they want and what types of creative elements will be ready to go on day one. Our two options for creative packages are our Starter Pack and our Game Day Enhancement Package.
Starter Pack
Every ScoreVision system includes a Starter Pack to equip our customer with personalized graphics and animations. The Starter Pack includes a personalized brand wrapper that customizes the ScoreVision video scoreboard, a set of sport-specific animations that engage the crowd, a set of digital ad banners personalized to the school or facility, and many other elements, resources, and features to make it easier than ever to create an engaging game-day atmosphere.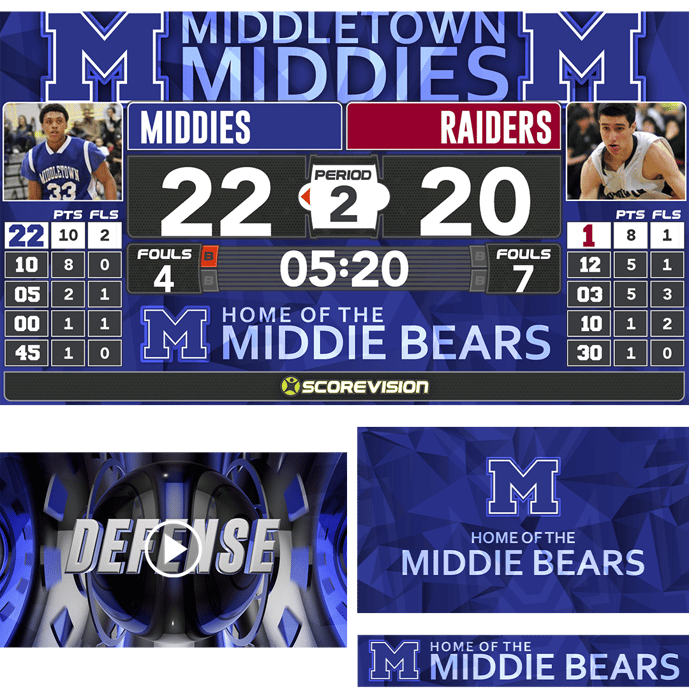 Game Day Enhancement Package
New and existing customers can also upgrade to our Game Day Enhancement Package, which augments the Starter Pack with additional personalized graphics and animations such as a hype video, a school logo animation, personalized sport animations, and more! The Game Day Enhancement Package sets our customers up to deliver a professional-level fan experience at their first games without spending precious time and efforts developing these creative elements in-house ahead of time.
Our Game Day Enhancement Package can also be purchased years down the road to offer a "refresh" of a customer's graphics. ScoreVision's Creative Services Team can also get involved to create a la carte services at any time. Learn more about ScoreVision's Professional Creative Services here.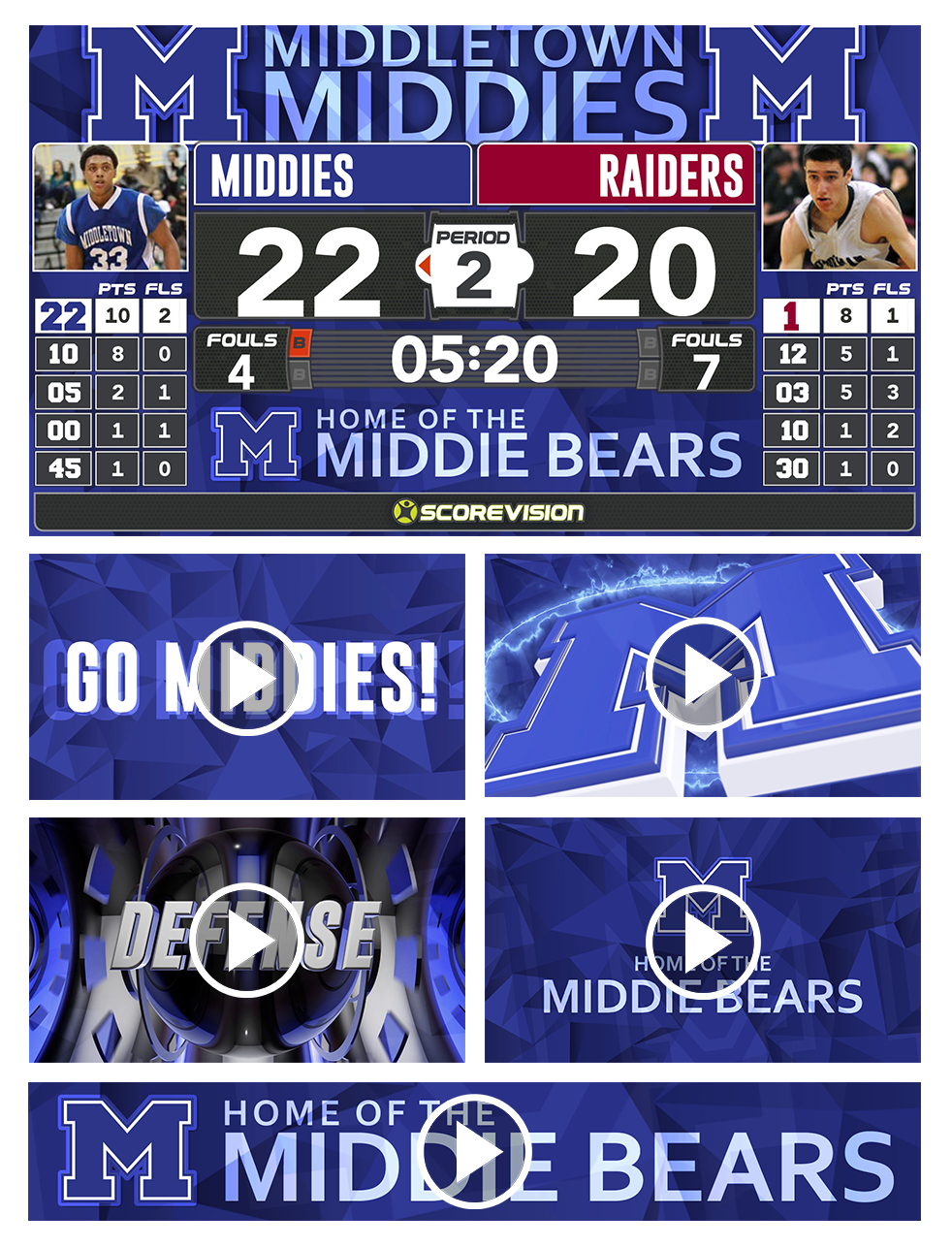 Training
In addition to having creative elements ready to go right when the ScoreVision video board is turned on for the first time, ScoreVision ensures that the team who will be running the scorekeeping and event production features of the system know the ins and outs of how our user-friendly software works. Our Support and Installation Teams work hand-in-hand with each customer to provide various training sessions online and in-person. We also provide web pages filled with helpful tips, resources, guides, and links to make sure customers have the answers they need at their fingertips.
Constant Innovation
Once the system is installed and our team leaves our new customer's facility, our relationship with the customer is just beginning. As a software company, we actively stay in touch with our customers, gathering feedback and consistently learning how we can make our product better to suit our customers' evolving needs.
ScoreVision is consistently releasing new apps, software features, design services, helpful tips, and more to make sure our customers have the latest technology and stay ahead of the curve. When you choose ScoreVision to upgrade your game-time experience, you truly get us – our friendly and relentless support, our constant innovation, and our ideas to help you get the most from your new video board system whether it's been installed for a day or a decade.
To learn more about the ScoreVision system, reach out to us for more information! We'd be happy to answer any questions you might have.
Want to learn more? Check out some of our most recent innovations here!