August 20, 2018
Basketball, High Schools, Multisport, Testimonials, Alternative Uses, Football, Lacrosse, Rugby, Soccer, Wrestling
Strake Jesuit College Preparatory School in Houston, TX has a long tradition of excellence in athletics. When it came time to upgrade the scoreboards in their stadium and gym, they wanted to bring an upgraded fan experience to every sport played in their facilities – not just to football and basketball games.
Strake Jesuit's athletes play football, lacrosse, rugby, and soccer in their stadium, as well as basketball and wrestling in their gym. For years, they grew accustomed to rigging the main metal-box football scoreboard to keep the score of the other outdoor sports and used the traditional fixed-digit basketball scoreboard to show wrestling information, but the other sports never had a scoreboard experience that was designed just for them.
"I think that each sport now feels like they have their own scoreboard," explains Strake Jesuit's President, Father Jeff Johnson, S.J. "For lacrosse, it's got the penalty time up there for each player that's in the penalty box, it's got the shots. It's unique to lacrosse, and that's something they've never had. Before it was lacrosse kept on a football scoreboard. And same with soccer."
Take a look at the gif below that shows how one ScoreVision LED jumbotron effortlessly supports all four outdoor sports with its own unique scoreboard layout: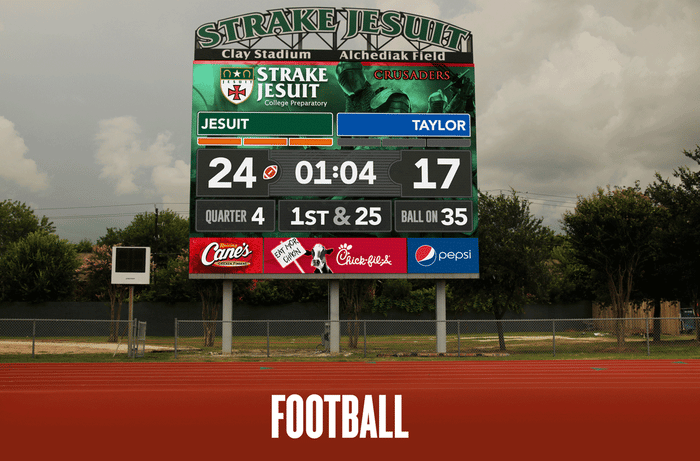 Inside the gym, the ScoreVision multisport scoreboard display also transforms from a basketball scoreboard to a wrestling scoreboard with ease, displaying sport-specific information, leaderboards, stats, school announcements, and other engaging content that isn't available on traditional metal-box scoreboards. The LED display in the gym also supports other non-athletic events like graduation ceremonies, pep rallies, banquets, and fundraising events, so the school can use their display outside of game-time.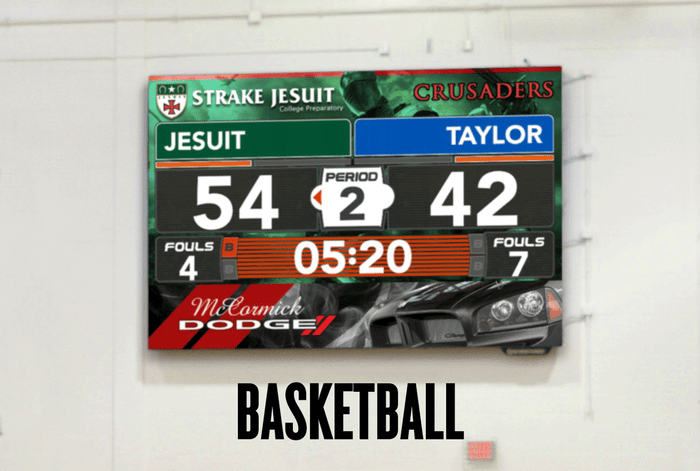 Watch the short video below to hear more about how Strake Jesuit has upgraded the fan experience for all their sports!Interested in learning more? Check out last week's blog post on how a ScoreVision jumbotron system upgrades football games and stay tuned for our upcoming posts about how a ScoreVision system can enhance educational opportunities this school year!
Follow us on Twitter, Facebook, and our e-newsletter to be the first to know about new content.
If you're ready to replace your metal-box scoreboard with a more modern, versatile ScoreVision multisport scoreboard, contact us today!