With football season around the corner, we're highlighting the incredible capabilities of our football jumbotron, scorekeeping, and event production system. By upgrading your football scoreboard to a ScoreVision multimedia scoreboard, you can make a major impact on your football program as well as students and the community.
See the features of our football scoreboard system in the short video below, then explore 5 ways a ScoreVision jumbotron helps make an impact in your stadium!
1. Elevates the Game-time Experience
A ScoreVision jumbotron system comes standard with many multimedia features that make it simple to bring a professional-level game-day experience to your high school or college facility. A ScoreVision football scoreboard can help you:
Get the crowd excited with

sport-specific animations

that highlight every play, like "First Down", "Defense", and "Touchdown".

Showcase anything from

instant replays and season highlights

to halftime marching band and dance team performances through a

live video feed

.

Recognize players for incredible plays with

one-touch player accolades

right from our easy-to-use Football Scorekeeper App.

Elevate your starting lineup or recognize individual players with

animated player profiles

.
See these features in action in the video above!
2. Alleviates Fundraising Challenges
Budgets for football and other athletic programs seem to be shrinking all the time, making an upgrade to a multimedia LED scoreboard seem out of reach. Fortunately, ScoreVision offers a valuable service to help schools fundraise with digital advertising on their LED sports scoreboards. Hear more about how ScoreVision helps alleviate fundraising challenges and budget shortfalls here and learn 6 simple steps to improve your fundraising efforts here!
3. Seamlessly Supports Every Sport
Gone are the days of using outdated multisport scoreboards to score every sport that takes place on your football field. ScoreVision provides optimized, built-in custom scoreboard layouts for every sport played in your stadium – football, soccer, lacrosse, and rugby – and switching between sports is a breeze!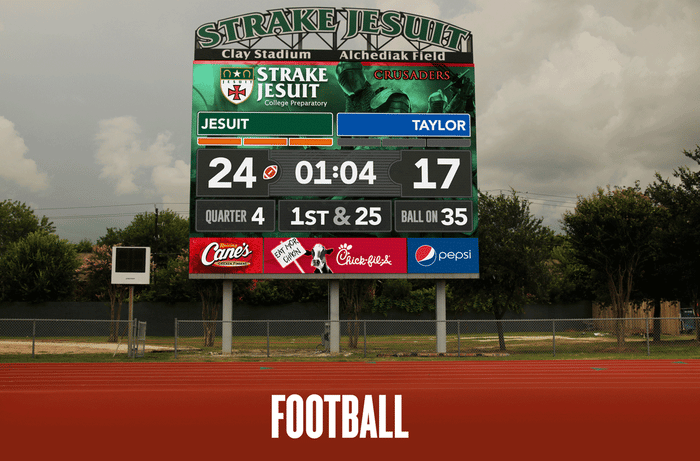 Not only does the scoreboard present a view that is optimized for each specific sport, but the ScoreVision Scorekeeper Apps tap into each sport's "logic" – offering an understanding of the sport and specific game rules – which makes the scorekeeper's job incredibly intuitive. ScoreVision currently supports a wide variety of outdoor sports with a suite of custom iPad and web-based apps.
With more and more schools using their outdoor space for multiple sports on the same field, a ScoreVision system saves coaches from:
Rigging a traditional scoreboard for a sport it doesn't really support

Purchasing additional scoreboards for each sport

Dealing with the hassle of temporary scoreboards
Read more about ScoreVision's LED multisport scoreboard capabilities here.
4. Provides Educational Opportunities
An upgrade to a ScoreVision jumbotron provides benefits to students in ways that traditional scoreboards simply can't accomplish. A ScoreVision jumbotron creates opportunities to engage and benefit students from nearly every discipline within your school. A system that previously benefited only athletes now provides opportunities for learning new skills, gaining real-world experience, and showcasing their work to the community for students interested in subjects like video production, broadcasting, graphic design, marketing, business, computer science and other subjects.
Learn more about how a ScoreVision jumbotron can provide incredible educational opportunities here.
5. Engages the Community
With the ability to use your football scoreboard for so many alternative uses outside of athletic events, the impact of upgrading to ScoreVision extends well beyond your football program. From game film review and demonstrating drills during practice to movie nights, marching band and dance team performances and hosting graduation ceremonies, a ScoreVision jumbotron can transform your football stadium into a community hub and provides significantly more value to your program and facilities than a traditional metal-box scoreboard.
Interested in learning more? Check out last week's blog post on how a ScoreVision upgrade can improve the recruiting process and stay tuned for next week's testimonial from Strake Jesuit College Preparatory School!
Follow us on Twitter, Facebook, and our e-newsletter to be the first to know when it's released.
Are you ready to make a major impact on your football program? Learn more about ScoreVision by contacting us today!
Imagine ScoreVision in Your School
Request more information below to learn more about bringing a ScoreVision system to your school or facility.